Professional Profile Captain Cartridge Sunshine Coast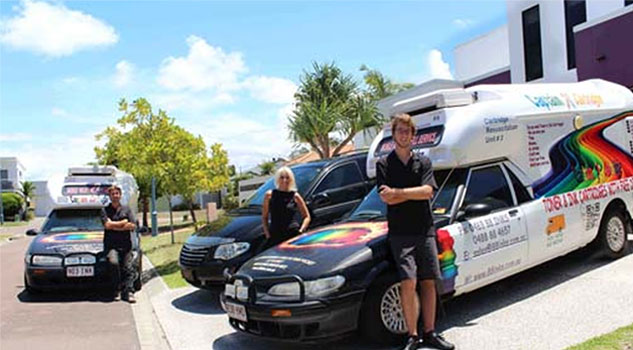 Captain Cartridge is owned and operated by Ian & Lucy Hazzard of the Sunshine Coast, Queensland. We started in September 1999 delivering cartridges and refill kits. It soon became apparent that there was a need for an on-site refill service on the Sunshine Coast which we had up and running in late 2000.
Having both worked in the hospitality industry for many years, we are both very aware of how important it is to provide prompt, friendly and reliable service. When combined with the high quality products we supply, you can be assured that you are dealing with the best cartridge retail company in the area.......(maybe the world!!).
We take that extra step to please our customers. With the occassional help of our son Mitchell who is studying at University, we are able to service all areas of the Sunshine Coast from Caloundra to Twin Waters in Maroochydore and all areas in between usually same day. Other areas still get products within a day, but they are delivered via courier.
We like to keep this website very clean in order for it to load quickly. Obsolete products are removed regularly. They are still available, but you may need to send us an email stating your machine / Cartridge number.
Please take some time to view all the options available on the website and contact us if something you are looking for is not there or if you have any other queries.
We look forward to being of service to you.
We are a small family business and appreciate the business that locals give us.
Ian & Lucy Hazzard.
In order to protect our environment, please dispose of your old cartridges in an environmentally friendly manner.
Captain Cartridge offers free delivery of new genuine or compatible ink cartridges & toner cartridges. All products delivered free to the Sunshine Coast. Other products available are refill bulk ink, fax rolls, photocopier toners, USB cables and specialty paper for all major brands including Canon, Brother, HP, Epson, Samsung and Fuji Xerox amongst others.
Copyright Captain Cartridge 2000 
Page updated July, 2015