Ink and Toner Trouble Shooting
There's a few problems with printers these days. They are getting too complicated, so when something does go wrong, its often an easy fix, but that's if you can find the menu to fix it. The other problem is that they are made of plastic these days so they don't make good anchors. Before taking your frustrations out on your printer with a hammer, lets see if it is one of those easy fixes.
Please be aware though, that the average inkjet printer will start to play up after around 1 1/2 years, its often easier, cheaper and quicker to get a replacement. But before you run out and get one of those "amazingly cheap" $30.00 printers from Harvey Norman or Joyce Mayne give us a call, we can let you know why you are making a big mistake. The slightly more expensive printers will cost you much less to run and will last longer. We are happy to advise you as to what is the best option for your printing requirements at the time.
Some common problems are highlighted below, such as doing a nozzle or printhead clean if quality has deteriorated.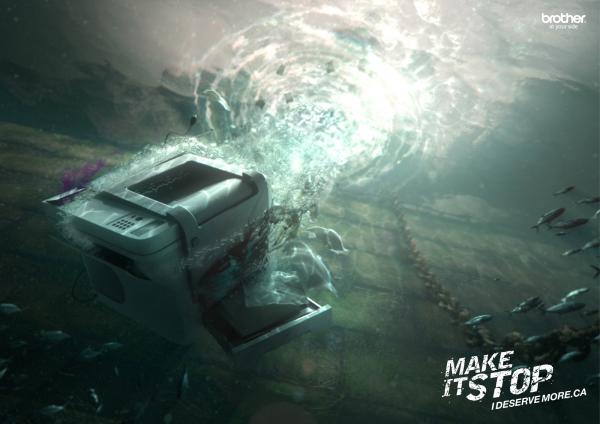 The above image is a Brother Advert, Just how we sometimes feel.
For an ink printer, if you are experiencing problems with the print quality, first follow the manufacturers instructions to do a print head or nozzle clean.
There will also on most inkjet printers be a nozzle check pattern which needs to be checked to look for improvement. (don't print a document or photo to test)
If your printer is not accepting the cartridge, it could be because the circuitry is programmed to only work for a certain period of time (1 use). This can occure with some refills. The refill may work for a very short period of time and then say its empty again. If you thought it did not last long, you are correct, thats why we DON'T refill many cartridges

For compatible cartrdiges, If you have a HP it will work after youacknowledge that it is not a genuine cartridge. 
Epsons will also give this warning but they will usually work with no problems after pressing OK.
Canon and Brother compatibles will usually just work as soon as they are installed. (At time of publication (2017), we recommend Canon printers with individual inks)
Sometimes the printer will not accept the cartridge because it does not recognise it. Removing the cartridge and cleaning the copper contacts or chip and reinserting will often solve the problem.
Some ink & toner cartridges both compatible and genuine may be faulty from the start, in which case, they need to be replaced.
If no improvement please call our number, our helpline number is 5493 2000 or 0488 88 INKS (4657)
Some Brother toner cartridges do not accept as a new toner when installed. This happens with genuines & compatibles. There is a procedure that we can give you over the phone to over ride the toner empty warning. This is a temporary fix, the cartridge will still need to be looked at. Once again, please call us for trouble shooting advice.
Captain Cartridge offers free delivery of new genuine or new compatible ink cartridges & toner cartridges. All products delivered free to the Sunshine Coast. Other products available are fax rolls, photocopier toners, USB cables and specialty paper for all major brands including Canon, Brother, HP, Epson, SamsungLexmark amongst others.
Personalised delivery operates from Pelican Waters in the South to Twin Waters in the North and all areas in between out to the Bruce Highway. If we are available on a particular day, we will make an effort to deliver outside these areas. In the interests of offering the most prompt service, we may send via a courier. This is a free service if your order is over $50.00.
Areas that we operate in on a regular basis.
Alexandra Headland, Alex Beach, Aroona, Battery Hill, Bellvista, Bells Reach, Birtinya, Bokarina, Brightwater, Buddina, Buderim, Caloundra, Caloundra West, Cartridge World, Cotton Tree, Creekside, Currimundi, Dicky Beach, Glenfields, Golden Beach, House of ink, Ink brothers, Ink King, Little Mountain, Kawana Island, Kawana Waters, Kawana Forest, Kings Beach, Kuluin, Kunda Park, Maroochydore, Maroochy Waters, Moffatt Beach, Mooloolaba, Mountain Creek, Parrearra, Pelican Waters, Point Cartwright, Refills Now, Sippy Downs, Twin Waters, Warana, Wurtulla, University, University Hospital..
All other areas in Australia still recieve free delivery for toners or for 4 or more compatible ink cartridges.
©Copyright Captn Cartridge 2000 
Page updated Jan, 2017